Today we held a memorial service for my dear beloved grandma, Betty. She died last Saturday. It was very sudden and unexpected. Our family feels a huge loss and will miss her greatly.
Betty raised five children with my grandfather, whom she was married to for 52 years. My grandma was absolutely amazing at everything she did. She made the best prime rib and peach cobbler. She weaved, made macrame, embroidered and knitted. Created porcelain dolls from the mold and fired in a kiln. She sanded them down, placed the eyes and styled the wigs on their heads. Sewed their clothing and painted every feature on their little doll bodies, all the way down to the rosy flush of their skin. My grandmother was a truly gifted seamstress. She made clothing for models and even elaborate costumes. She loved interior decorating, did upholstery, made bedding and draperies. She painted, did calligraphy, rubber stamp and scrapbooking crafts. Everything my grandmother made was a work of art. Everyone wanted her to make something for them.
My grandma loved to garden, and flowers made her so happy. She loved perfume, victorian finery and lace, jewelry, antiques, Fenton, and cherubs. She collected and made these things--she even had her own fine jewelry shop. Boy did she like to read! Especially mystery novels and thrillers! She loved going to car and horse races with grandpa, going on trips with the GMC motorhome club, and enjoyed spending time with her crafty friends. Grandma had fun geeking out on her computer and liked to stay in touch with family that way. She adored an occasional Budwiser and loved her Butterfinger candy bars. She would keep their chocolatey goodness stashed away for when she had a craving! (I sure liked to help myself to her secret stash!) Oh, but she really loved to dance. She taught me once how to jitterbug and waltz. She loved the classics, like "Flight of the Bumblebee", by Korsakov, and all those old swinging jazz favorites. She would be moved to joyful tears, whenever I would sing her a tune, always begging me for more. She made me feel so very loved.
I recently learned that my grandmother was a skilled archer, played the drums, and belly-danced. She was always full of surprises.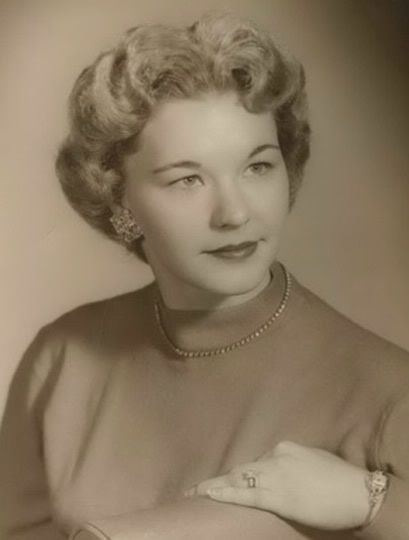 Betty Ann Mautz ~ Born: February 10, 1931, Died: October 7, 2006
Grandma was a graceful, amazingly beautiful, and extraordinarily talented woman. She was fun and sassy with a quick wit and warm heart. She touched my life in so many ways.  I admired her skills, and treasure all the memories and things she made for me.   She taught me how to be crafty, inspiring me with her passion for creativity. She made me feel so special and her excitement and encouragement for my music gave me hope.  The faith she placed in me always lifted me up.  I will miss my grandma, and will always remember how very special she was.  She was always there when anyone needed her. She put her family's needs before her own. When we were in trouble, Grandma was always there to the rescue. Now that she is gone, we have to learn to make it without her. It is so hard to imagine a life with out Grandma. We depended on her so much.  God bless her soul and may she rest in peace.